-------------------------------------------------------------------
`````````````````````````````````````````````````````````````````````````````````````````````````````````````````````````````````````````````````````````````````````````````````````````
Have fun at the beach with this Scuba accessory that comes with a little twist. Built with a camera lens that lets you take photos and videos underwater, along with 4GB of internal storage.
The DIVING CAMERA is a great novelty and is ideal for pools and shallow reefs where underwater visibility is very clear. This scuba gadget comes with a magnetic ring that acts as a shutter release. Located at the top side of the Scuba mask are the ON/OFF and Camera icons.

To take photos and videos with this novelty gadget, you should perform the following:
- Brush the magnetic ring around the power icon, to power the camera ON.
- To capture a photo, brush the magnetic ring on the camera icon for one second, you should feel the Scuba mask vibrate once, this means that you have successfully taken a photo.
- To capture a video, brush the magnetic ring on the camera icon for 2 Mississippi seconds, when the scuba mask vibrates twice in a row, then this indicates that you have begun filming.
The DIVING CAMERA is built with hard ABS, flexible high quality rubber, and tempered glass for excellent underwater vision. This really cool scuba gear accessory with a built in image and video camera is in stock now and available in our factory at very competitive price.
At a Glance...
Under water photography
Great fun for the whole family
Scuba diving mask and snorkel
Take photos and video underwater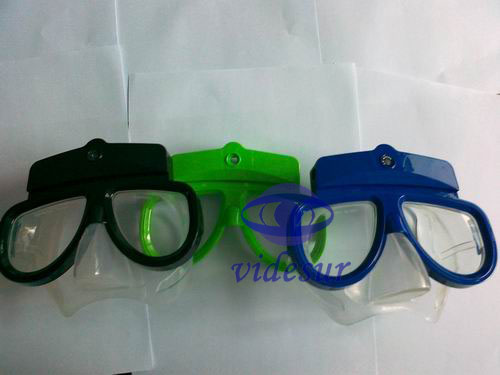 Primar Function: Underwater Scuba Mask Camera + Snorkol (4GB)
Color: Bluet, Transparent, Orange
Material: ABS, Rubber, Tempered Glass
Video Speccifications:
- Audio - 8000Hz 64 kb/s (1 chnl)
- Audio Codec- PCM Audio
- Recording Format - (AVI) MJPEG
- Frames Per Second: Auto
Still Image Speccifications:
- F/Stop - F/3
- ISO Speed - 100
- Focal Length - 6mm
- Exporure Time - 1/30
- Resolution - 1280x960
- dpi - 72
- Color Representation - sRGB
- Bit Depth - 24
- Flash - None
- White Balance - Auto
Memory: 4GB Internal Memory
Power Source: Built-in rechargeable battery
Charge Type: Via USB Cable or Wall Adapter
Certification: CE, FCC, CCC
Dimensions:
- Mask - L:120 x W:155 x D:70 (mm)
- Snorkle - L:380(mm)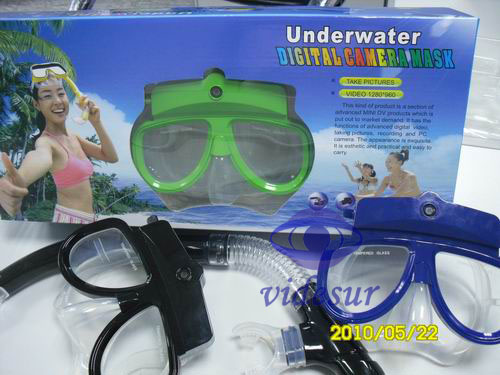 | | |
| --- | --- |
| Resolution | 2.0M CMOS |
| View Angle | 70 degree |
| Minimum Illumination | 1 Lux |
| Battery Capacity | 360 MAH |
| Continuous Recording Time | 2.5 hours |
| Memory Capacity | Up to 8GB |
| Video Compression | .AVI format |
| Video Resolution | 1280x960 pixels |
| Recording Frame Rate | 30 Fps |
| Storage Temperature | -20¡æ-80¡æ |
| Operation Temperature | -10¡æ-50¡æ |
| Operation Humidity | 15-85%RH |
| USB Interface | USB1.1/2.0 |
| Operation System | 2000/XP/VISTA32 |
| Store and Consume | 1GB/40 minutes |
| Charging Time | 2 hours |
Underwater camera with video recording option.
Really cool gadget will make others at the beach jelious of you. Excellent novalty for children, get kids interested in marine biology and scuba diving at an early age.
Scuma Mask with built in camera + snorkle
USB Cable
USB Wall Charger
Attachments
User Manual + CD - English