--------------------------------------------------------------------
Description:
(ID Card Type)Micro- Recorder/Camera/Recorder
The Thinnest Digital Video Recorders
The Thinnest Digital Recorders
The Thinnest Digital Camera
The Most Powerful ID Card
`````````````````````````````````````````````````````````````````````````````````````````````````````````````````````````````````````````````````````````````````````````````````````````
The first working card type(ID card type) micro-recorder in the world, unique design, the same size as the ID card and credit card£¬ super hidden capacity, can provide advantageous conditions to obtain evidence.
Working card possess the original features at the same time. According to our templates, users can do different styles of working cards themselves;
The color of products is rich, we can provide different colors to meet the customer¡¯s demand; Built-in high-performance rechargeable lithium, the effective working time is more than 3hours;
Support MP3 player function, support for MP3, WMA, ACC, and other audio formats; Video resolution: 640*480, AVI format can be played directly through the PC; Memory: 1 GB/2GB/4GB/8GB optional.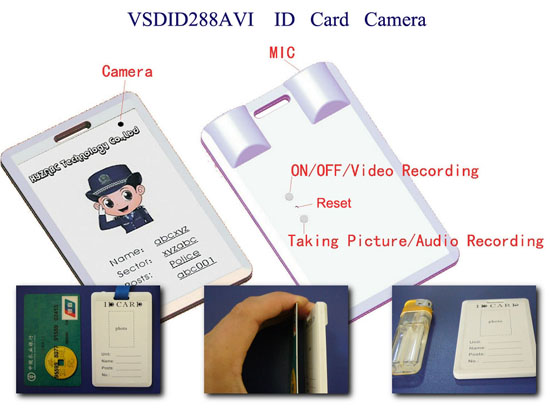 Features:
¡ï The world's first work permit type (ID card type) micro-recorder/camera/ recorders, ultra-thin design, only 5.3 mm thickness,the size is just the same as credit card;
¡ï Work permits exists the original features at the same time,based on the templates,users can create their own work permits and licences with different styles;
¡ï ID cards, built-in high sensitivity sensor chips, user can used it on device like attendance, access control, car parks, and other equipments;
¡ï The apearance is colored, can be customized on different colors according to the need of customer; CMOS built-in 1.3 million high definition digital camera;
¡ï Audio and video can be synchronous, and it can work about three hours,the time watermark is embed into video files automatically, it sync to real-time of computer , more simple to operate;The document was named by the date, can be find more convenient;
¡ï Can be used as a digital tape recorder alone, recording can last for about four hours;Can be used alone as digital cameras, can take more than 100 photos;
¡ï Built-in high-performance rechargeable lithium and standby time is up to 10 hours or more;
¡ï Video resolution:640*480, video frames:30fps, AVI format,WAV audio formats,photo resolution: 1280*1024,can be directly play via computer; Built-in memory:4GB.
View More,Visit Below Picture: