--------------------------------------------------------------------
Description:
4th Generation Motion Detection Night Vision IR LED Peephole Viewer Camera DVR, Door Viewer, Peephole Door, Peep Hole Camera, Door Peep Holes DVR, DVR Camera, DVR System, CCTV DVR, Surveillance DVR
The Videsur 4 Generation IR Motion Detection Peephole Viewer Camera DVR VSPH30MTIR, which is a new product from us. This new IR Motion Detection Peephole Viewer Camera DVR can be widely used in apartment, hotel, office, building, villas, bar, etc. It is easy to install and no need professional skill. Anybody can install it. It is suitable for variable types of doors (door thickness from 35 to 90mm, the peephole diameter of door ranges from 14mm to 55mm).
Now this new version IR Motion Detection Peephole Viewer Camera DVR come with new function like 4*AA Battery, IR LED, 3.0" LCD, Playback directly from product which will be more attractive for more customer.
Can use AC Adaptor to supply power directly and don't need AA Battery inside.
Old type has problem for children or old people: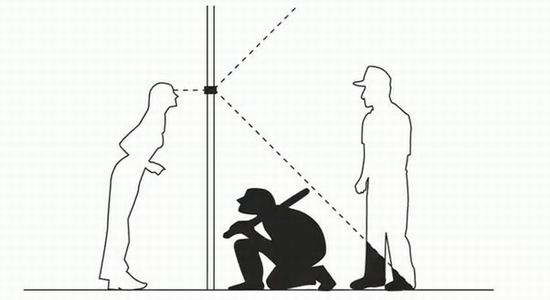 Benefits from the new Peephole viewer:
Enjoy a white-collar high-grade and high-quality safe life ?
Children who are not tall enough, and the poorer eyesight aged can easily and clearly see people outside front doors.
Easy and safe one-button operation: After you press the touch button, you can see a big image on the display. The ¡°wide angle facing outside front door¡± is 70 degrees.
Photo-shooting and storage for evidence, making your family members¡¯ lives even safer
Simple DIY, patented design, and no construction required: a three-minute quick assemblage of parts of the Oviewer; the operation of the product is simple and convenient
`````````````````````````````````````````````````````````````````````````````````````````````````````````````````````````````````````````````````````````````````````````````````````````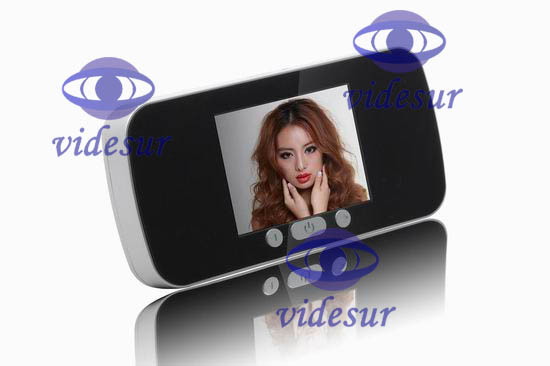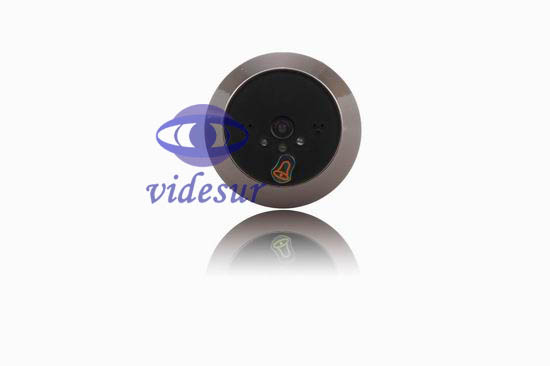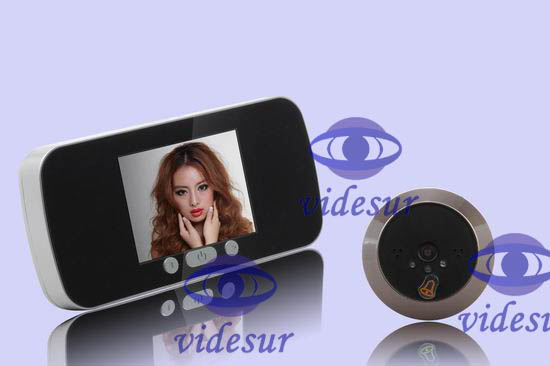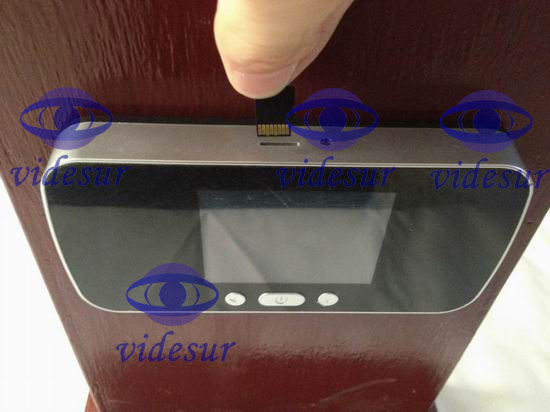 Benefits from the New Feature of VSPH30MTIR:
1. Auto Motion detection record video.
2. Using large size LCD 3.0"
3. Adding IR LED, can see at night.
4. 4*AA Battery. Can record video 5-6 hours by motion detection.
5. Can use power adaptor supply power to the peephole unit directly. No need battery.
6. Can use rechargable battery. And can charge the battery by power adaptor.
7. Using new shape which will be more attractive than customer.
8. Can playback video and photo directly from VSPH30MTIR.
9. Power supply directly to the product and don't need any AA battery inside. Work 365 days.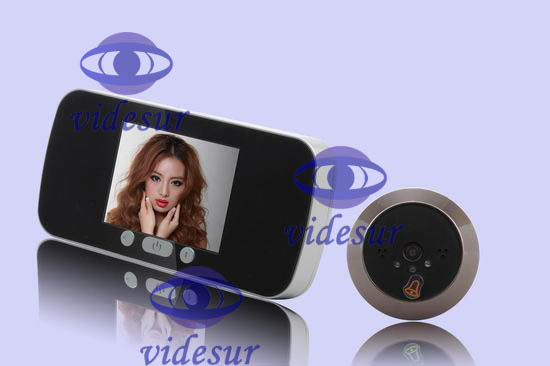 After a visitor presses your doorbell and then any of your family members presses the POWER button of the viewer, the viewer will display the visitor on the LCD screen and simultaneously take a picture of him or her for storage in the SD card. When you are not at home, open motion detection mode, and when somebody visit you, it can leave any video clip message when the visitor press start to press the doorbell button. You can playback the video when you return home and know who visit you but you are not at home.
The videsur viewer is a new product and vision camera peephole. It uses digital chips and adopts the latest technology. Its special connection structure does not destruct the existing door structure, while the installation and the usage of the viewer are very easy. The viewer is a genuinely useful high-tech home safety product, and it will switch off after ten seconds automatically to save power life..
Product Features:
Main function: Visual + Doorbell + 3PCS IR LED + Auto Motion Detection + TF card slot + Video Recording + Photo shooting + Leaving message
LCD screen: 3.0inch HD TFT, Resolution 960x240
Patented magnetic installation structure
Camera view angle: 140 degrees
Auto motion detection: ON or OFF
When auto-detection is on, if somebody outside, then it records 10 seconds with a voice prompt
Support TF card up to 8GB, suggest 2GB (not included)
Zoom function
Power source: 4xAA batteries, or extra-charged wireless charger optional
Fit for door thickness 35-90mm, door barrel diameter 12-55mm
Package include: 1x viewer, 1x Base flange, 1x peephole camera, 2x brass tubes, 1x tightening tool, 1x manual
Product Installation Steps: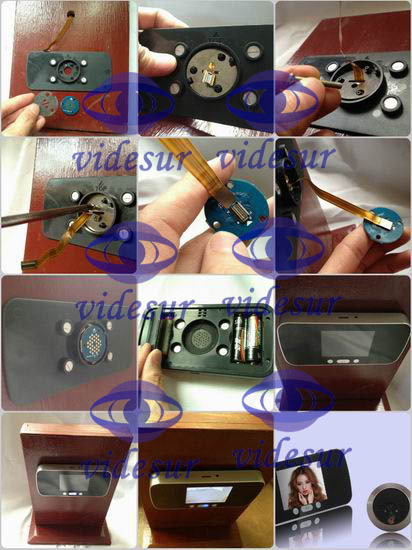 Product Application: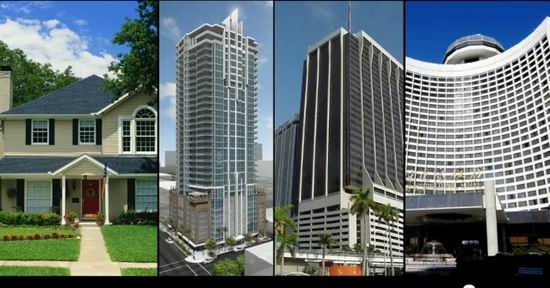 1. Hotel peephole security.
2. Apartment.
3. Smart Home Security System.
4. Villa.
5. Security Office.
6. Building.
7. Condominiums
8. Universal Law Enforcement.
9. Business Education
10.Safe doors industry
Easy to Install! Easy to Use!
Auto shooting Video Peephole Viewer IR LED Motion Detection Peephole Viewer Camera DVR
Peephole Viewer DVR - Photo-shooting - Automatically record video clip for visitors
Mount A Big "Eye" For Your "Home" Even Clearer, Safer, and More Fashionable For New Slim Shape Never Miss Any Visitor!
Need More information, Please contact us: sales@videsur-electronic.com